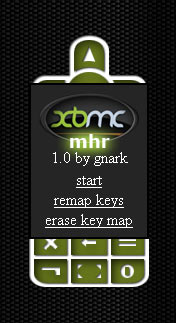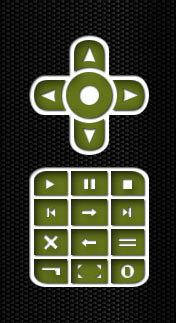 mhr is a xmbc webserver skin. it will act as and like a remote control
and is not ment to be a full featured gui. therefore it actually is a
little ajax app that transfers keypress actions to your xbmc.
usage:
- enable web server api on your xbmc.
- download, unzip, and place /mhr folder inside /web folder of
your xbmc installation. we dont want to replace other web apis
we want to have this as an aditional web frontend.
- on your mobile device start a browser and navigate to:
http://[your xbmc ip and port]/mhr/
- follow instructions on your device: mhr wants to map device
specific key codes so it actually knows what key you are pressing.
it will save the mapping inside a cookie, so as long as that will
be kept by the device, you dont have to do it again next time.
when you use a touch screen, you can skip the mapping thing and
press "start" at once.
- whenever an action is triggered you can see two text lines left top
of the screen: 1) what action and 2) the status of the sending
features:
- the mhr "skin" is more like a little ajax app. so it will not
present you "links" to some web api calls but will try to
interact with you via key- (and click-) events and will present
you a nice gui
- its a remote. it does not care about the current state of the
xbmc. its just a remote control.
- as said, it will store a key mapping, so hope everyone gets the
numpad and the left/right/up/down/ok mapped correctly.
- written to work with most browsers. so test it via a normal browser,
i have designed and tested it for a nokia s60 browser. if it wont
work with your 2004 wap browser, go and buy yourself a new phone.
if you experience flaws with your modern device, let me know.
keys:
- up, down, left, right
- ok (that one pretty much means play)
- 1 : queue (looks like play but actually enqueues items to playlist)
- 2 : pause
- 3 : stop
- 4 : play previous
- 5 : start (mostly starts something like osd)
- 6 : play next
- 7 : back (mostly kicks you out of whatever you are about to do)
- 8 : b (kicks you back just a little bit like closing osd)
- 9 : playing (black key on xb controller, toggles to and from playlist view)
- * : context (white key on xb controller, mostly opens context menu or info)
- 0 : screen (x key on xb controller, toggles full screen or visualization)
- # : shutdown (right thumb key on xb controller, displays shutdown menu)